THE NEW FERN COURSE IS HERE!!!
SPECIAL NOTICE: Hi Everybody!
Thanks for finding my site and for being interested in native plants!
For design services, I am currently wait-listed THROUGH THE END OF OCTOBER 2019.
You are welcome to contact me but please understand
that we'll be designing for SPRING 2020 planting season.
In the meantime, check out the E-courses tab—
there will be MORE native plant design courses
coming available over the winter.
SIGN UP FOR THE NEWSLETTER TO GET THE LATEST.
Thank you!!
Beautiful, native gardens
with purpose
Christina Pax, MLD
Work with a professional designer who can help bring your ideas to life. Someone who knows the nuances of native plants,
and can help you make it beautiful.
Get a beautiful design that makes use of solid design principles.

Lower your maintenance with good planning.

Save money by getting a well-thought-out design and then installing it yourself, or with help.
Create a master plan to guide your landscape projects. Bring your ideas to life, with encouragement and professional support. (Scroll down to read more.)
Create a highly effective design for a small area. Ideal for smaller budgets or places where much of the landscape is already established. (Scroll down to read more.)
I offer two design services...
Co-Design helps you create a master plan for your landscape, in four, fun meetings.
Small Area Focus Design is for smaller area projects, where the design can usually be completed in one meeting.
I can help you design the native landscape you've always wanted.
I'll come directly to your house to meet you, see the site, and work with you. Over a series of four meetings, we'll walk through the design process together. There will be homework to complete between meetings, and you will really feel you are getting involved in your own landscape design.
At the end of these four meetings, you will be ready to begin installing your landscape with confidence. You will have
a detailed, master plan drawing

a plant list and suggestions on where to find the plants you'll need

a phased plan of which parts to tackle in what order

planting, watering, and maintenance instructions as needed
You will also have a friend to share the enthusiasm as you move along in your project--which sometimes can make all the difference!
The cost for this service is $1200. If you think this might be the right service for you, please contact me and let's talk about your landscape.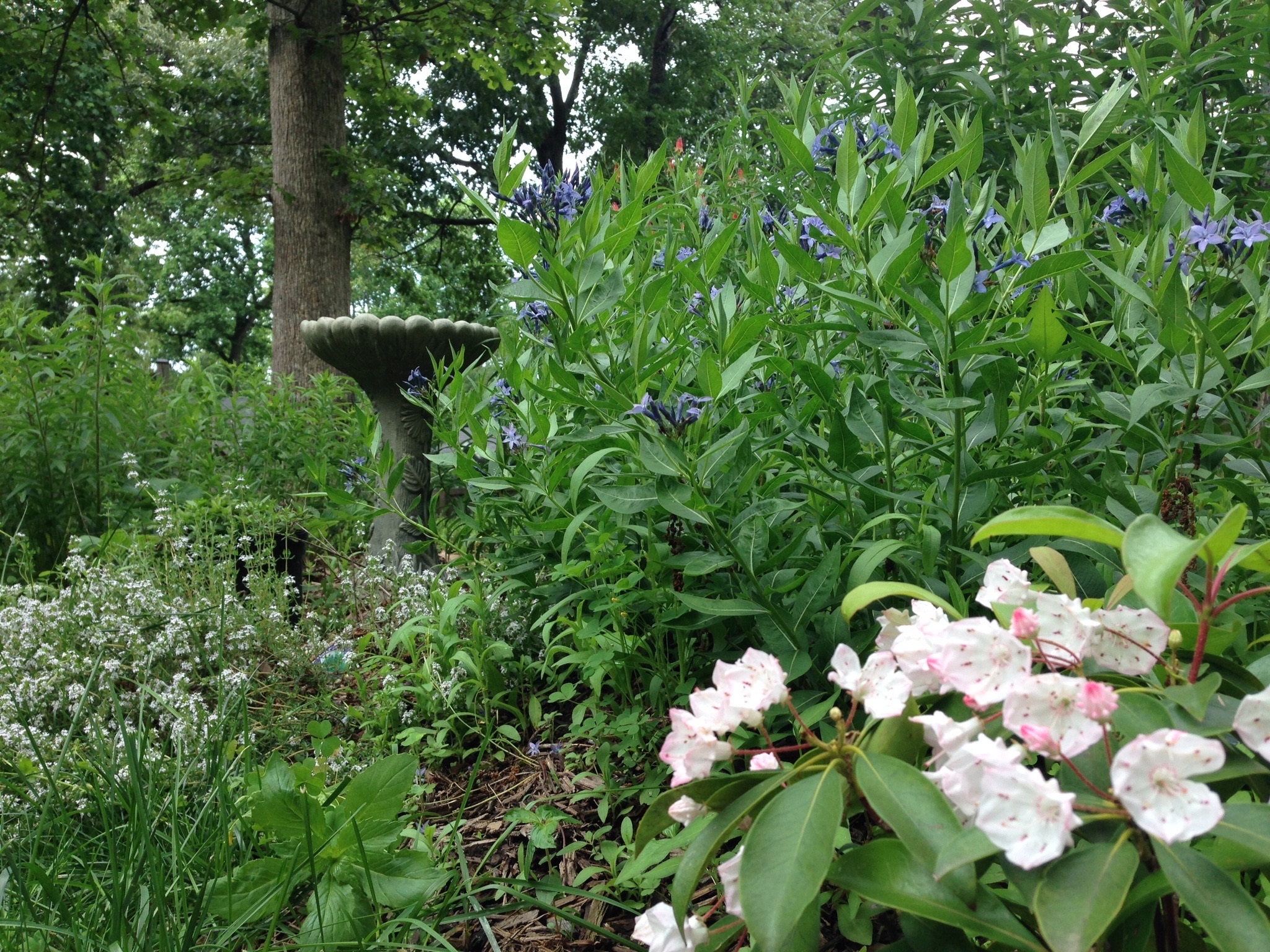 Small Area Focus Design Service
Small steps can begin a great journey!
If you could create a beautiful spot in your landscape—just one area to focus on—what would it be?
I am available to help tackle small design projects that are easier on the budget. With one pre-visit phonecall plus one visit to your home, I will help you figure out what is needed for that one, small area to really shine with native plants.
What to expect with SMALL AREA FOCUS design service
This service is limited to Annapolis and nearby area residents only (including parts of Kent Co. and Anne Arundel Co.).
First, we'll have a short phone conversation that helps us both understand what your goals are for the project.
Then I'll come to your home for a visit lasting 1 to 2 hours. During that time we'll measure, analyze, fantasize, and conspire until we have a good plan for the area you've chosen. We'll run through the whole, entire design cycle: site analysis, design, plant selection, and installation planning--all in one meeting!
The result is a clear, detailed sketch showing what to put where, and a list of what to buy. You'll also get instructions on how to install your bed based on what's there right now.
The cost for this service is $375 and includes the following*:
Pre-visit phone interview

1-2 hour planning meeting at your home

Sketch of garden, drawn to scale, with plant names indicated

List of plants to purchase and local nurseries that usually carry them

List of other materials to purchase with likely sources in the Annapolis area

Instructions on how to prepare and plant your bed

Instructions on how to maintain your bed after it is planted
* Please note that this service is limited to Annapolis and nearby area residents only (including parts of Kent Co. and Anne Arundel Co.).
Got a larger area?
Sometimes the best approach is really to design a whole master plan for your landscape, and then install in phases. That's what our Co-design Service is all about, and it has worked extremely well…for lots of people over the past 4 years.
Contact Me
Fill in your name and email, and put "Small Area Design" or "Co-Design" in the subject line. I'll get back to you usually within 24 hours.
Thank you, and I look forward to learning about your landscape!