"This is just what I wanted! I love to spend time reading, sipping ice coffee and enjoying nature in this garden oasis in the city." --RC, Baltimore
I offer two design services...
Co-Design helps you create a master plan for your landscape, in four, fun meetings.
Small Area Focus Design is for smaller area projects, where the design can usually be completed in one meeting.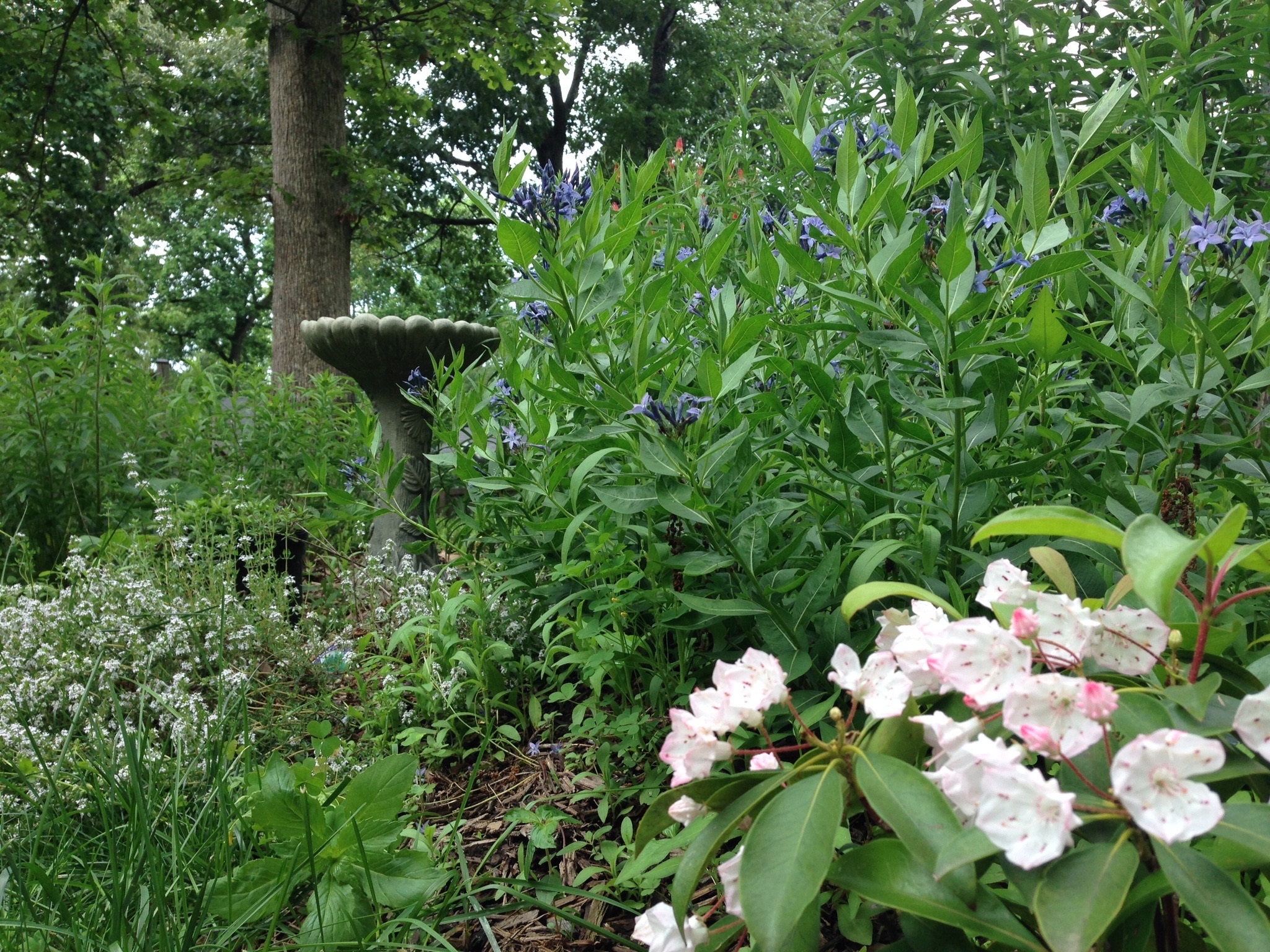 Small Area Focus Design Service
Small steps can begin a great journey!
If you could create a beautiful spot in your landscape—just one area to focus on—what would it be?
I am available to help tackle small design projects that are easier on the budget. With one pre-visit phonecall plus one visit to your home, I will help you figure out what is needed for that one, small area to really shine with native plants.
What to expect with SMALL AREA FOCUS design service
This service is limited to Annapolis and nearby area residents only (including parts of Kent Co. and Anne Arundel Co.).
First, we'll have a short phone conversation that helps us both understand what your goals are for the project.
Then I'll come to your home for a visit lasting 1 to 2 hours. During that time we'll measure, analyze, fantasize, and conspire until we have a good plan for the area you've chosen. We'll run through the whole, entire design cycle: site analysis, design, plant selection, and installation planning--all in one meeting!
The result is a clear, detailed sketch showing what to put where, and a list of what to buy. You'll also get instructions on how to install your bed based on what's there right now.
The cost for this service is $350 and includes the following*:
Pre-visit phone interview
1-2 hour planning meeting at your home
Sketch of garden, drawn to scale, with plant names indicated
List of plants to purchase and local nurseries that usually carry them
List of other materials to purchase with likely sources in the Annapolis area
Instructions on how to prepare and plant your bed
Instructions on how to maintain your bed after it is planted
*Please note that this service is limited to Annapolis and nearby area residents only (including parts of Kent Co. and Anne Arundel Co.).
If you think this might be the right service for you, please contact me and let's talk about your landscape.
"I found my way to Chris through the Adkins Arboretum Native Landscape Design Center, and it's been a joy to work with her! She combines a deep knowledge of native plants and garden design principals with a genuine interest in helping me create a landscape that makes our acre feel like home. Each Spring and Fall I rely on her advice and encouragement, and planting day with Chris is one of the highlights of my gardening year."
--LC, Colton's Point, MD
Got a larger area?
Sometimes the best approach is really to design a whole master plan for your landscape, and then install in phases. That's what our Co-design Service is all about, and it has worked extremely well…for lots of people over the past 4 years.